Colours and Patterns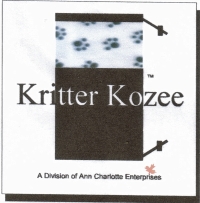 Full Fleece Kozee
Camo
Tiger Cat
Black & Brown
Puppies
Puppy Print
Blue Paisley
Click here to Buy Now!
Choose a panel pattern and co-ordinating fleece colour
(colors underneath pattern name)
Crowd of Cats
Red Orange
Happy Cats
Red Yellow
Happy Cat Stripe
Red Yellow
Crazy Cats
Royal Blue
Glamour Cats
Lilac Lime Rose
Rainbow Cats
Purple Green Red
Rainbow Dogs
Purple Green Red
Cheetah
Black
Flames
Black Yellow Orange
Red Pawprint
Black
White Pawprint
Black
Bengal Tiger
Black
Bells and Bows
Red Black
Funky Cats
Pick your color
Femme Felines
Pink Black
Click here to Buy Now!
Especially for Pet Care Providers
Dr Dogs – Nurse Cats
Aqua Shadow
Xray Cats
Royal Blue
Note: Xray Cats glows in the dark.
Click here to Buy Now!
Have a favorite team, sport, interest, or hobby? If we can find the print, we will make it for you.
(A slight surcharge may apply according to the cost involved.)
| | | | |
| --- | --- | --- | --- |
| | | | |
| Missouri | KC Chiefs | Wolves | Breast Cancer |
AR Razorbacks
Red Black
Click here to Buy Now!
Fleece Colours
| | | | | | | |
| --- | --- | --- | --- | --- | --- | --- |
| | | | | | | |
| Red | Yellow | Black | Royal Blue | Orange | Gold | Dresdan Blue |
| | | | | | | |
| --- | --- | --- | --- | --- | --- | --- |
| | | | | | | |
| Lilac | Lime | Green | Rose | Purple | Aqua Shadow | Burgundy |
| | | | | | | |
| --- | --- | --- | --- | --- | --- | --- |
| | | | | | | |
| Baby Blue | Forest | Fuschia | Lt Blue | Lt Grey | Navy | Pink |